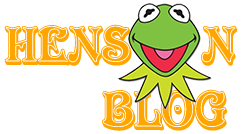 The Muppets on Puppets
Naturally, Rowlf refuses to believe it. He tries to prove that he's a real dog, first by saying "Woof! Woof!," then pulling out his bowl, which unfortunately has "CAT" written on it, and then giving an "authentic" example of real dog begging by crying out "Please, I beg of you!" He only accepts the reality of the situation when Jim asks him to look down and, to his shock, Rowlf realizes that there's "a man down there! How will I ever explain this to Lassie?!" Besides being very funny, this moment bittersweetly foreshadows The Muppets Celebrate Jim Henson, a November 1990 memorial TV special, in which the Muppets all finally look down and realize there are people "down there," learn who Jim Henson was, and then just as suddenly have to accept their loss of him.
But back to Rowlf, another sign of his stardom here, particularly in comparison to Kermit–who as we all know would later supplant him as the Muppet protagonist, so to speak–is that, although Kermit does appear, it's only in a few, very brief segments, and, fascinatingly, he continues to not yet quite be the Kermit we know and love today. There have been some earlier clips in which we did see glimmers or even full-on demonstrations of his later personality but here, when placed in direct contrast to Rowlf, Kermit is put in the chaotic, disruptive role, with Rowlf being the calm at the center of the Muppet storm.
They don't exactly trade roles later on. Rowlf, while wryly funny, never becomes one of the zanier, madness-creating Muppets. But Kermit here acts in the same capacity as most other later Muppets would act in relation to him. It starts off with Rowlf bragging about his own handsomeness and an insulted Kermit lashing out at him, "Watch that, doggy!" Soon they're trading insults back and forth, Rowlf telling him in another extremely meta (and completely accurate) joke that his eyes "look like sawed-off ping-pong balls," and Kermit saying Rowlf's nose looks like a doorknob. Finally, Kermit gets the upper hand by biting one of Rowlf's ears, grabbing hold and refusing to let go until Rowlf agrees to say that he's handsome–ironically a very Piggyesque move, if ever I did see one. It ends on a tender moment, however, when Rowlf compliments and Kermit gives him a sweet peck on the cheek, again underlining the Muppets' brilliant combination of affection and anarchy.
And speaking of foreshadowing, shortly afterwards, Taminella appears and makes a failed attempt to turn the audience into frogs. Kermit, however, attests that it worked on him in the past. He used to be a prince! Which unintentionally sets up the second Tales from Muppetland special, The Frog Prince, which introduces the frog character, Robin (who later becomes Kermit's nephew), who had been a prince before he crossed paths with her.
Taminella also then appears in the aforementioned fairy tale sketch, as Cinderella's evil stepmother. This is an amazing sketch, in which Rowlf attempts to read the story of Cinderella but the characters keep messing it up behind hi min more and more outlandish, Muppety ways. At first, the stepmother doesn't tell Cinderella she can't go to the ball but rather that she should take a basket of sweets to her ailing granny. And so Cinderella goes off into the woods with the basket and runs into not a wolf but…a young boy named Hansel. Who is on his way to market with Gretel, his cow, in order to trade her for magic beans. The fractured mash-up-ness of it all only gets more and more chaotic from there, with Rowlf being driven more and more crazy, which again, would have likely been Kermit's role had this sketch been done later.
Other cool moments include appearances by the full-body Muppet monster, Splurge–a big, purple, not-particularly bright creature with snaggle teeth, who would next appear in the first Tales from Muppetland special, Hey Cinderella (which I'm covering here tomorrow)–wreaking havoc as he bounds through the studio; a three-headed monster whose middle head more than slightly resembles a more monstrous version of Grover; and a gaggle of Muppet monsters, some of whom might have been intended for The Musical Monsters of Turkey Hollow (they look similar, at least); and then great moments like Jim and Frank bringing out the Southern Colonel, and demonstrating how, with a few simple changes to facial hair, eyes, nose placement, etc., a Muppet's entire look and personality can be changed. These "supporting character" Muppets were/are called Anything Muppets, because they can take on whatever role was needed.
And so we see the Southern Colonel transformed into a big game hunter, a rock star, a sensitive poet, an old timey gangster, a depressive guy, an alien (who says "Meep! Meep!," foreshadowing Beaker!), and then back to the Southern Colonel again.
There are also a number of other cute sketches, including the last one, in which Jim and Don demonstrate how you can make very simple puppets at home, which they then use in another fairy tale skit, this one an original story quite reminiscent of Tales of the Tinkerdee, even featuring a princess called Gwendolinda and a wicked witch hellbent on mischief. What I might love most, however, is that they call its fantasy setting the Kingdom of Frell, which would later be an alien curse word on the Henson Co.'s brilliant sci-fi series, Farscape! I do have to wonder whether it might have originated here, or if the word might have unknowingly stuck in someone's head. Then again, it could be an unintentional but awesome coincidence.
And we end on Jim saying goodbye, and all of the Muppets participating in a curtain call, including Kermit, whose quick bow and exit is just as brief as all of the other side characters'. At this point, he's considered on the same level as Taminella, King Goshposh, the monsters, and even the Anything Muppets! Rowlf, on the other hand, again, is effectively on the same hosting level as Jim, bidding us adieu. Until Splurge walks into the camera, smashing it.
Which might be the perfect transition to tomorrow's Hey Cinderella post! Arguably the first legit Muppet special, not only does it feature Splurge, but most excitingly, the first-ever appearance of Kermit the Frog, looking and even behaving like our Kermit. This was one of my favorite specials as a kid so I'm particularly psyched to revisit it now. Hope to see you then!
Pages: 1 2