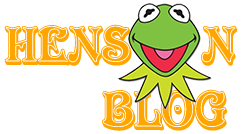 Tales of the Tinkerdee Pilot
Ever since I decided to undertake this rather massive undertaking, one of the pieces of Henson history I was most excited to see was the Tales of the Tinkerdee pilot. I'd seen brief clips of it at the Jim Henson exhibit at the Museum of the Moving Image in Queens a few years ago and had wished to see all of it. Now I finally had a chance, and it did not disappoint. In many ways, it was practically designed for me. I've always been fascinated by fairy tales and folklore, as was Jim Henson, evidenced in his 1980s fantasy films, The Storyteller, Fraggle Rock, and the Tales from Muppetland specials–Hey, Cinderella; The Frog Prince; and The Muppet Musicians of Bremen.
And speaking of those specials, although Tales of the Tinkerdee wasn't picked up by any network, it set the stage for Tales from Muppetland in a number of ways. For one, two of the characters designed for this show would reappear in later Muppet fairy tales: the cigar-chomping King Goshposh (the perpetually-smoking cigar in his mouth a further evolution of Ed Burrows' fake cigarette on Sam and Friends), and the potato-shaped witch Taminella Grinderfall, "witchiest witch of them all" (voiced by Jerry Juhl, who would eventually be the head writer for The Muppet Show and Fraggle Rock, among other things).
Secondly, the full-length fractured fairy tale format is very similar to the set-up for those shows, the major difference being that while those were riffing on specific fairy tales, Tinkerdee is an entirely original story, albeit one that borrows and tweaks elements from numerous well-known tales. After Jim got back from his revitalizing European trip in 1958, he began to develop ideas for a complex puppet production of Hansel and Gretel which never materialized. Tinkerdee allowed him to finally make use of a lot of the ideas he had sketched out for that show.
Tales of the Tinkerdee is also hugely notable for being the first time that Kermit has a collar around his neck! Now, he still isn't defined as a frog yet, and the collar isn't the green, triangular one we're used to. In fact, it isn't even actually attached to him (although that's clearer to see in the above color photo than in the black-and-white special itself). It's simply part of the costume for the medieval court minstrel narrator role he takes on here. And although it would still be a while until he would finally, officially be a frog, the collar certainly enhances his frogginess and likely caused something to click in Jim's mind, eventually inspiring him to put that finishing touch on his green alter ego and most famous character.
The pilot also continues the tradition of Kermit playing a guitar-like instrument–here, a lute, rather than his more famous banjo, which we first saw him play on Sam and Friends and will later see in The Muppet Movie. Kermit's voice is also much closer here to the one we know, losing most of the Southern drawl he had on Sam and Friends. He's still, however, more of a mischievous spirit than we're used to, himself contributing to, rather than defusing the chaos. For example, in one scene, he composes a song for the lovely Princess Gwendolinda's birthday: "It is the princess' date of birth/Let bells ring out the news/We'll celebrate with joy and mirth/And a party, I suppooze!" which inspires King Goshposh to throw him out of the room, much as Kermit himself would later react to the other Muppets out of frustration when they drove him crazy with puns and other nonsense at the Muppet Theatre.
The show is also the largest, most ambitious Muppet project up to this point. While it isn't yet nearly at the levels of The Muppet Show or Fraggle Rock, it features a full cast of Muppets with no human beings on screen–unless you count Jim's arms and legs taking on the role of Charlie the dim-witted ogre–and creates its own whole, little world with numerous sets, costumes, special effects, and more. Going from small, 5-minute sketch show largely composed of lip synced musical numbers and short parodies, and often with all voices performed by Jim, to a nearly-30-minute narrative that has lots of similarly kooky gags but actually tells a complete, coherent story, with a full cast of puppeteers doing their own character voices is a huge leap forwards. This was Jim's first writing collaboration with Juhl, and you can already see much of the brilliance that would inform all of their later Muppet productions on display here–the witty wordplay, the goofy gags, the balance of chaos, silliness, and warmth, and the breakneck pacing.
And after all that preambling, what is the story? Why, it's the aforementioned Princess Gwendolinda's birthday, and King Goshposh and his Prime Minister–incidentally, this Prime Minister isn't the very narrowly-shaped Featherstone who appears in later Tales from Muppetland but is an entirely different Muppet who looks a lot like a proto-Scooter, with curly hair, and glasses for eyes–have organized a huge party in her honor and have invited everyone in the kingdom, rich and poor. Everyone, that is, except for Taminella, who is none too pleased by the snub.
Amusingly, however, unlike Sleeping Beauty's wicked fairy nemesis, she doesn't immediately assume they're deliberately disrespecting her. At first, she writes it off as an unfortunate oversight, and begins–like a barrage of miffed Hogwarts owls–sending hundreds of letters to the king, a singing telegram, and eventually an anachronistic blimp (the show has lots of fun anachronisms, including the opening song, when Kermit meta-ly advises us to "Toucheth not that dial," and Taminella at another point telling the princess she's "not just whistling Greensleeves!"), kindly cajoling/threatening him to please kindly send her an invitation…or else. And even after all that, it isn't until she spies on Goshposh directly telling the Prime Minister to burn the missives and ignore her that she decides to take action.
Also amusingly, her wicked scheme isn't to cause actual harm to the king or the princess or the kingdom, but simply to steal all of Gwendolinda's presents. And she isn't planning to do this out of revenge. She'd always planned on doing it regardless. The otherwise lunkheaded Charlie is even perceptive enough to ask her why, if she meant to make off with all of the gifts, she didn't just go to the castle without an invitation in the first place. Her response: "Where's your sense of etiquette?!" They finally, however, make their way to the castle in costumes that they dug out of Tammy's old trunk, Taminella decked out in fabulous drag as, of all things…Santa Claus! And Charlie–according to what he tells the palace guard, played by Sam and Friends' Yorick–as her "trusty reindeer, Tonto". And I think we should all just take a few moments now before proceeding to appreciate how wonderfully Muppety it is that the evil witch's plan is to disguise herself as a man…Santa…in the middle of spring…in order to steal presents, like an off-season Grinch…
Pages: 1 2