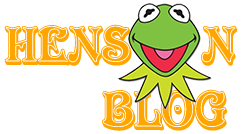 Sam and Friends
This is also easily the most Muppet Show-ish of any of the material I've seen so far, filled with puns and wordplay by turns groan-worthy, extremely clever, and often both at the same time. And here Kermit is one of the ones causing the mischief, unlike in the previous episode. U. S. Marshall Dilly (a joke on Gunsmoke's lead character, Dillon) orders him to go out and shoot that "bunch of squares that came into town". "You can do it," he encourages Kermit. "You've always been a square shooter!" Slightly later, Harry, wearing a wig and dress and playing Miss Doggy (this sketch's twist on Gunsmoke's Miss Kitty), arrives to tell him the evil Black Bart has arrived in town, and although Dilly is frightened to face him, Miss Doggy tells him, "You have to! You have a reputation! If you go through with it, maybe you'll get a good reputation!"
The cleverest pun of all, however, comes when Professor Madcliffe bursts in, playing a dramatic teacher for the "show down" on Main Street–in other words, he's a stage coach for the show down on Main Street. Stagecoach. Showdown. Get it?! And the big twist ending? Dilly and Black Bart's actual showdown ends up being a game of chess. The rapid-fire jokes and zany set-ups are so Muppety that if you squint and imagine it in color, you can practically see The Muppet Show characters doing a very similar sketch. And you can check it out yourself here.
"A Horse Named Bill"
In this short sketch, Kermit lip syncs to a recording of a comedic novelty children's song, "A Horse Named Bill," while playing the banjo, an example of one of the earlier types of Sam and Friends sketches. And while it's odd to hear another voice coming out of Kermit's mouth (but just wait till we get to the first season of The Muppet Show, when Piggy's voice wasn't exclusively done by Frank Oz and was sometimes covered by Richard Hunt!) and he still doesn't have a collar, it's pretty amazing to see his ability to play the banjo established so very early in his life. Interestingly, Jim recycled this song on the fourth season of The Muppet Show, which is something he'd do quite frequently–using old songs he'd loved his whole life in new sketches.
The episode ends with another Esskay ad, this time with Kermit singing a song, praising their bacon (which is morbidly funny in retrospect, given who would eventually be the love of his life!), while Harry the Hipster plays the piano in the background, again reminding us of him being an ancestor to Rowlf and Dr. Teeth, as well as foreshadowing the rare moments when Kermit and Rowlf would sing together, such as their classic duet in The Muppet Movie, including similarly witty back-and-forth dialogue.
Kermit: I can keep on naming products till my face turns blue!
Harry: It's already green.
Kermit: It's always green!
You can view the episode for yourself here.
I've Got You Under My Skin
And yet another lip sync song sketch from a Stan Freberg recording! Again, incredible use of lip sync, and again a call-and-response situation with a lead singer, this time Kermit, being undermined by a background chorus, singing every single word he says, even the ones not meant to be sung, and, again, it's a little strange to hear a different voice emerging from Kermit's mouth. And here it is!
And please come back tomorrow for Part 2 of my Sam and Friends coverage!