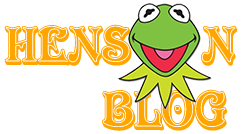 SNL: "The Land of Gorch" #7-11
The Christmas scene is far from the best or funniest Gorch sketch. In fact, a great deal of it seems to be met with stony silence from the audience, a testament to their general inability to make heads or tails of them, but it is pretty fascinating to watch the Muppet performers directly acknowledge the fact that they're essentially bombing and making that the very concept of their sketch. They also seem to have realized that Scred is their MVP, because the scene's culmination centers on him againsharing an affectionate musical moment with a female star, as with Lily Tomlin, and it is another Gorch highlight. And, in fact, the next three sketches focus on Scred, as well, and Ploobis doesn't even make an appearance in the latter two!
In one of the first 5 sketches, there had been some flirtation between Scred and Peuta but no solid confirmation that they were actually cuckolding Ploobis. In the January 10th, 1976 installment, however, we learn that not only are they sexually involved with one another but that they've been fooling around behind Ploobis' formidably-sized back for 400 of the around-600 years that Ploobis and Peuta have been married! Incidentally, this is our first and only indication as to how long-lived the people of Gorch actually are. The driving thrust (no pun intended…or, eh, actually, yeah, intended, why not?) of the sketch is that Peuta out of the blue decides that the guilt is eating her up and she won't be able to enjoy sexyfuntimes with Scred–as described in The Joy of Sex book they're reading–until he reveals the truth to Ploobis, who, as it so happens, is beginning to suspect that something is up as well. 400 years of being in the dark before reality finally dawns on him seems about par for the course with Ploobis!
Ultimately, a guilt-ridden and terrified (after Ploobis threatens to kill whoever's sleeping with his wife) Scred runs to the Mighty Flavog for advice and manages to bargain him down from a four-chicken sacrifice to none, thanks to the juiciness of his story. And upon learning the full truth and Peuta's demand to Scred, the stony god's wise response is, "You don't need anyone else. You can find self-fulfillment by yourself." And when Scred doesn't fully get the picture, he adds, "Look it up. The Joy of Sex, page 212." Just let the fact that we just had a Muppet masturbation joke sink in for a moment.
And pretty incredibly, the next sketch–January 17th–is an almost-direct-follow-up to the first one, making it almost feel like the second in a two-parter, other than the fact that Scred and Peuta are still doing it, with no mention of his ever having talked to Ploobis. We can probably assume that Scred was finally able to convince Peuta to change her mind somehow. But anyway, this might be the "dirtiest" Gorch sketch of them all, as Scred has ordered a special machine called "The Monster" to enhance Peuta and his sexual pleasure! Unfortunately, however, the only instructions come in Japanese, so neither of them can figure out how to get it working. At one point, he tries smacking her with it to see if it does anything for her, but it doesn't. Eventually, they turn it on, sirens sounds, and they get down to business. A few moments later, Scred emerges, awestruck, whereas Peuta asks, "Is that all there is?" He sighs: "Some people are never satisfied." As far as Gorch sketches go, this one's pretty solid. It has an amusing premise, it's risque, and it features two Muppets making sex noises, which is…an interesting experience. It also happens to be the last Gorch scene that isn't a full-on meta commentary on the sketch's failure to capture the heart of the audience. It's also the last in which the Gorch characters appeared on the Gorch set.
Why, the very next week's–from January 24th– is barely a Gorch sketch at all but rather a comment on the fact that there isn't a Gorch sketch that week! Gilda Radner is on stage, ready to introduce musical guest Neil Sedaka, when who should arrive but Scred, dressed as a Killer Bee?! Gilda asks him why, and he tells her that the Bees promised him that he could be in their sketch that week, a parody of The Andy Griffith Show in which he was to play "Aunt Bee".  But she sadly has to inform him that even that was canceled, as well, at which point he's had it with the human cast's treatment of his compatriots and him. "How come no one ever tells us Muppets anything?" he complains. "We're tired of being second-class citizens here!" He then declares that he could do any of the sketches every bit as well as the humans can. "I could do Weekend Update!" he says, mimicking anchor Chevy Chase's line with, "I'm Scred, and you're not!" Finally, after Gilda refuses to let him play with her mooglies, she does agree to let him introduce Neil Sedaka, which he happily does, after she empathizes with him a bit and gives him a sweet kiss on the snout.
Again, as with the Lily Tomlin scene, Scred shines and proves himself to be the Gorch Muppet most suited to interact with human guests (having now finally gotten the chance to meet him via watching these clips, I'm actually pretty surprised he didn't show up in later Muppet projects). Gilda, like Lily, had a very kind nature, exuding warmth and gentle humor throughout the scene. Whether or not the other humans on set had issues with the Muppets, you never get the sense that she did. She seems genuinely delighted by him, and given what people have said about her personality and the fact that she herself appeared on The Muppet Show in its second season, I wouldn't be surprised if she liked them as much off-screen as she seems to, on. Never for a moment here do you not fully believe that she considers Scred a real, very weird little person, which makes the two of them together a real joy to watch, even as this sequence ironically seals Gorch's SNL doom, as the last 5 scenes, which I'll cover in the next post, actually deal with the Gorches having been fired from the show, along with their subsequent, desperate attempts to get back on it!
Pages: 1 2