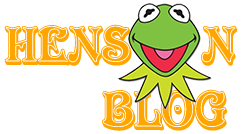 Julie: My Favorite Things
Back when I watched and reviewed Julie Andrews' first special with the Muppets, Julie on Sesame Street, I explained the circumstances surrounding how these shows came to be produced for ABC, so instead of going over that again, I kindly direct anyone who might not remember (and that's completely understandable; it's been quite a long time!) back to that post.
For now, what's important to know is that, despite frustration at ABC yet again not picking up The Muppet Show to series, Jim Henson and Co. collaborated with Julie on a second special, again produced by ATV and shot at Elstree Studios in London, where The Muppet Show would eventually find a home. This one was called Julie: My Favorite Things, after the world-famous song she sang in the world-famous movie musical based on Rodgers and Hammerstein's The Sound of Music, and aired on April 18, 1975. Unlike the last special, however, which revolved around the Sesame Street Muppets and was actually set on Sesame Street, here the Muppets were simply guest stars, along with famous British comedian, Peter Sellers. Best known for his Pink Panther films, Sellers would eventually guest star on The Muppet Show himself, as would Julie, both in Season 2.
But, since as a viewer, I'm so used to the Muppets being the main attraction and the human a guest star, to see them merely show up for what essentially amounts to an extended group of musical sequences and then disappear for most of the rest of the hour to give way to surreally outdated comedy sketches and musical numbers without them gives the special a particularly off-kilter feel. As does the fact that it's such a weird hodgepodge, opening on an intensely creepy opening in which Julie sings "My Favorite Things" whilst dancing with a pants-wettingly terrifying clown, moving on to the Muppets, then going on to a pretty painfully dated, overlong sketch with Peter Sellers that feels a bit like the worst of Saturday Night Live all rolled into one, followed by a seemingly drugged-out dance sequence with 4 dancers in Pink Panther costumes, then a huge Busby Berkeley-esque production number, and ending on a strangely melancholy note with Julie singing the aptly-named "Melancholy Baby". There seems to be no control of tone or guiding artistic vision from sequence to sequence. It's always wonderful to see Julie Andrews performing but this is such a bizarre showcase for her talents.
Because this is a Julie Andrews special with the Muppets, rather than a Julie/Muppets special, there isn't much of a point to pore over the entire special here. Instead, I'll just give a brief summary of the Muppet bits: the first appearance by Muppets in My Favorite Things aren't any of the well-known characters but rather two groups of large, dancing puppets. The first, the Gawky Birds, are huge, 11-foot tall puppets controlled by rods–much like Bossman–which Jim and Co. originally created to be used in a huge Muppet Broadway production that never came to fruition. This is likely these squiggly-tailed birds' first television appearance, but they would appear a few times afterwards on The Muppet Show. The second group–which Julie refers to as the "Klunks," but which were later called "the Clodhoppers" were similarly developed for that production and also later appeared on The Muppet Show. The cool thing about these furry, life-size puppets, who look a bit like Grover, is that their legs were attached to the performers' feet, while they operated their hands with their hands. With the puppeteers dressed in black as camouflage, it created the illusion that the Clodhoppers were moving independently.
The song in which they make their debut is the classic "Swinging on a Star," however with rewritten lyrics to describe first the Gawky Birds (who Julie calls "Gawks") and then the "Klunks," such as "A Gawk is a rainbow with a long, sunny beak, but no one has ever heard it speak…" and "If you have a funny walk, you may turn out to be a Gawk!" The best part in the Klunks sequence is when Fiddler on the Roof's "Tradition" starts playing on the score and they begin to dance in an European-Jewish style.
As soon as this number is done, we cut directly to a Dr. Teeth and the Electric Mayhem number, "Your Mamma Won't Like Me" (a 1975 hit by Suzi Quatro) with some awesome Animal drumming that shows the band at their grooviest and faux-druggiest, but which is most notable for how it ends. Julie comes out, dressed like a Bob Mackie concept of a hippie, with an outfit and headband covered in blinding sparkles, banging cymbals and trying but failing miserably to blend in with the Electric Mayhem's effortless cool. Suddenly, the band stops. "I was just getting into it," Julie protests, to which Floyd responds, "It's ok, baby, I'm just getting out of it!" Dr. Teeth explains, "It's just [they] hadn't been exposed to perfect pitch before…Little too much of The Sound of Music there, lady!" You have to give Julie credit for being so willingly to mock her own square public persona, which makes her a fantastic foil for the Muppets here. The Mayhem being allergic to "square" music would be a recurring theme on The Muppet Show, as well, particularly in one episode where Floyd refused to play the theme song because it wasn't cool.
This bit then ends on one of those Muppet gags that just flirt with the edge of darkness. Animal yells, "WANT THAT WOMAN!," the first instance of the running gag of Animal's attraction to women. Floyd responds, "What did you do with the one we got you last week, Animal?"
The next scene finds a dejected in-character Julie, feeling down about the band's dismissal of her, when she comes across Kermit, who consoles her. He explains that he's too square for them, too, confiding in her that he wishes he could be Robert Redford (which is funny because, in the Juliet Prowse episode of The Muppet Show, Prowse refers to him as "the Robert Redford of frogs") but "we have to live with what we are". And though one might have expected that to lead in to a "Bein' Green" duet, instead she sings a song that she actually composed called "Song for Kermit," which she would later sing to him again when she visited The Muppet Show herself. And ok, it's musically a very sweet number, but the main lyrics are "When you were a tadpole and I was a fish," which just comes across as weird, and not in the general Muppet way. Granted, this might just be me, since I've had a pathological fear of fish since childhood, but even given that, it doesn't quite work. It seems to be something about evolution, however Kermit did start life as a tadpole, and while humanity might have, millions of years ago, Julie Andrews herself didn't begin life as a fish, as far as I know.
Putting the words aside, however, Julie is just so remarkably gentle with Kermit, caressing his flippers and face, and exuding that warmth that makes us all love her so much, never for one instance not completely selling that Kermit is a real, living, breathing being. When she finishes, a lovestruck Kermit says, "Robert Redford, eat your heart out!" And when he then tells her he loves her…well, let's just all breathe a sigh of relief that Miss Piggy's character hadn't yet been developed or there would've been hell to pay! This scene then ends on a moment that retains the sweetness but undercuts the saccharinity a bit. She tells him, "I bet you were the handsomest tadpole," and Kermit preens a bit, finally resting his head on her shoulder and snuggling with her. Suddenly, however, he hiccoughs loudly, which seems to have been improvised on Jim's part, as she jumps, seemingly actually startled for a moment. It's possible she's acting here. She is one of the greatest actresses of our time, after all. But it feels legitimate, as does her laugh.
And that's it for the Muppets on this one, other than a split-second where Julie wonders what her final number should be and Floyd pops up to suggest "Melancholy Baby," which she obliges and–as I mentioned before–ends the special on an oddly down note for what preceded it. However, a similar thing happened at the end of Julie on Sesame Street, so maybe she just really liked depressing people in her special's finales? And, speaking of depressing, while this is the part of the post where I would usually point you to a link to watch the show for yourself, unfortunately as of the time this is being posted, it's no longer up on YouTube. Here's hoping it comes back soon!
Next time, we convene, I'm very excited to be taking a look at The Muppet Show pitch reel, one of the final, albeit-still-indirect steps that finally led to the creation of the most Muppetational show in television history!