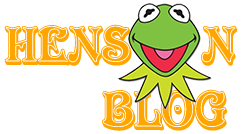 The Muppets 1.09: Going, Going, Gonzo
He suggests to Gonzo that perhaps Piggy Water isn't a product he wants his name associated with, in order to give him an out. "But everybody's counting on me to live out their dreams," Gonzo says, to which Kermit replies that his dream is for his friends to be able to tell him anything and he would never judge them. And although Gonzo humorously undercuts the sentimentality with "Wow, Kermit, that is a very boring dream," he clearly appreciates what Kermit did for him and agrees to call off the stunt…but just so that he won't be thought of as a sellout, you see.
Returning to what Gonzo said about other people living through him, it's also lovely to see his commitment to chasing his dreams inspire his friends, as well. Scooter, for example, decides to take a walk on the wild side, agreeing to let Janice pierce his ear, and although he ultimately can't bring himself to go through with it, just considering dipping his toe into such "dangerous" waters makes him feel more alive than perhaps ever before. Earlier episodes sometimes gave off the sense that the Muppets on this show were mostly all in it for themselves, each so focused on his or her task in grinding out a talk show that no one other than Piggy even seemed to really be enjoying. Here, however, The Muppets is continuing to develop its characters' relationships even further. They not only care about one another but are actively pushing and inspiring one another to be better and to push themselves out of their comfort zones. Except when that ultimately seems wrong for them, in which case they let one another know that that's okay too–for both Scooter and Gonzo.
But by the end, Gonzo gets inspiration from another unexpected source, Dave Grohl, whose rendition of his uplifting song, "Learn to Fly," in turn ends up reminding Gonzo of who he truly is: someone who takes insane risks despite the insurmountable odds. And that's when he decides to go up to the roof and do the stunt after all, but not for publicity, credit, or fame, but just for himself. In fact, since he called the jump off before the show started, the Up Late cameras aren't there to capture and broadcast his feat to the world. The only witness is Kermit, who had chased after Gonzo as soon as he realized what he was about to do in a last-ditch effort to dissuade him because he fears for his friend's life.
But Gonzo is determined, damn the odds, and does it, flying out of the cannon and making a perfect landing into the vat of Piggy Water, the climax of "Learn to Fly" playing in the background and making for the single most triumphant, stand-up-and-cheer moment of the series to date. And Kermit does, cheering for his friend with a full-hearted Kermity "YAAAAAAAAAAY!!" and dubbing him "Gonzo the Greatest". And honestly just typing this out is making me emotional, so you can just imagine how I was while actually watching it. It's everything that's wonderful about the Muppets–music, mayhem, warmth–wrapped into one gorgeous moment of television magic.
And I haven't even really touched on Joseph Gordon-Levitt's fun B-plot in which he card sharps Rizzo and Pepe at their post-show poker game–"That, my dear prawn, is called ACTING!" he cackles. "Give me that Muppet money!"–or the absolutely, gutbustingly hilarious sequence in which Piggy is repeatedly electrocuted as part of what Deadly describes as "a beauty treatment which, ironically, is not pretty," in what seems to be a blend of acupuncture and shock therapy. The look on her face each time she's zapped is priceless, particularly when she enters "the glamour coma". Just as merely thinking about Gonzo's powerful finale can give me chills, just remembering this scene as I write this is making me legitimately laugh out loud. This might actually be my favorite comedic moment Eric Jacobson has ever had as Piggy. The subtlety of the facial expressions and the movements are so precise that you never think of her as anything but a real, living, breathing comedian.
Meanwhile, has there ever been a more incisive Muppety indictment of American values than when Sam the Eagle has no objections to the potential violence of Gonzo's stunt being aired on television, should it go wrong, saying, "All I ask is that, when you hit the wall and explode, you do not curse"? Or as perfect an Animal moment as his drum solo competition with Dave Grohl during the end credits? Or, again, as breathlessly beautiful a Gonzo moment as his episode-closing triumph? Okay, probably there is, for all of these things, but in the moment, it doesn't feel like it, and if that doesn't indicate just how far The Muppets has come over the course of the past 9 episodes, I don't know what could.
Pages: 1 2